Shared marble carving class
Learn more about the carving of carrara marble in a local workshop
Have fun with your family or your friends to carving your own piece of marble with hammer, chisel and the help of a marble artisan. At the end, go back home with your hand made marble little sculpture.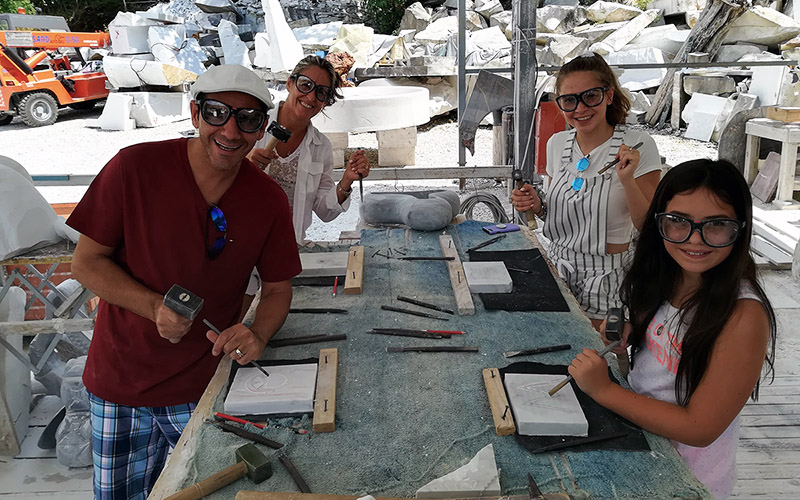 Highlights
Be Michelangelo for 2 hours.
Visit a marble workshop and learn about the methods and tools used for the carving of marble, illustrated by a local artisan.
Try the emotion of dealing with a piece of marble and learn how to handle hammer and chisel under the guidance of a marble craftsman. 
Go back home with your own marble work.
This experience can be matched with the 4×4 Tour and the quarrymen snack in Colonnata
Details
Meeting time in the MORNING 9.30 am | AFTERNOON 2.30 pm
Duration 2/2,5 hours.
Every day except Saturday afternoon and Sunday (to be confirmed).
Meeting at the sculpture workshop.
Type of tour SHARED. You might find other people doing the same activity. If you want to make it private click here.
Price € 80.00 per person – Under 18 € 70.00 per person – MINIMUM 2 PARTICIPANTS.
The price includes: guided visit to the sculpture workshop; supply of piece of marble, protective glasses, gloves, hammer and chisel (these remains in the workshop).

How the marble sculpting class work
You arrive with your own vehicle at the sculpture workshop, and will be greeted by the owner who will show you around his shop explaining the techniques used to sculpting marble.
You will then be provided with a marble tile, protective glasses, gloves, hammer and chisel.
Make a drawing on marble: an animal, the initial of your name, a fantasy figure. The sculptor shows the proper use of hammer and chisel to start removing the marble around your drawing.
Smooth your marble work with emery and sandpaper and finally sign it !!!