private shore excursion with English speaking driver to Carrara marble mines FROM LA SPEZIA AND PORTOVENERE

A special day discovering the world of Carrara marble. Famous worldwide, this white and shiny stone was used by Michelangelo and by the most important sculptors and architects for making their works.
The itinerary is an unbelievable trip throughout 2000 years of art, history, sweat, and toil. During the trip you will explore the marble quarries (open cast and underground), will learn more about the history of excavation and transportation of marble and (naturally) savor the local specialties.
After lunch visit Lerici, a quaint coastal town located by the Gulf Of Poets, enjoy your gelato by strolling along the walkway by the sea.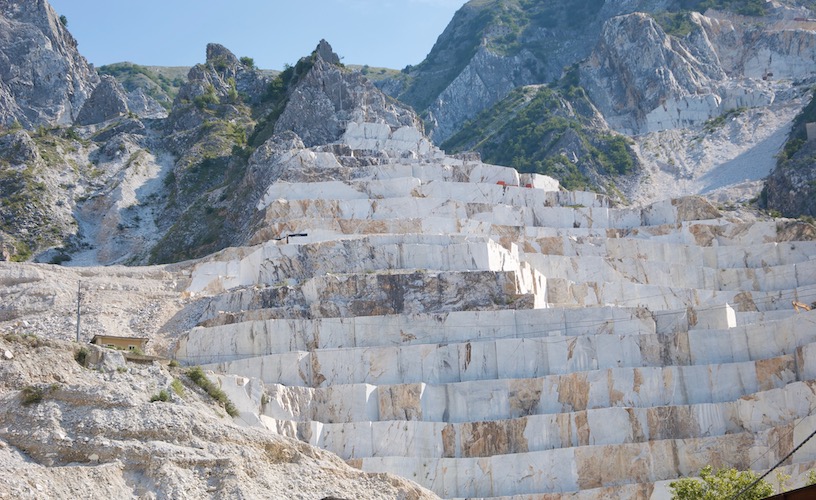 Highlights
Tour of the marble quarries with private driver***.
Learn more about 2000 years of excavation and transportation of marble.
Visit open cast and underground quarries.
Time permitting, we will visit a marble workshop.
Snack lunch in Colonnata, old quarry men village
Itinerary
Meet your driver at the cruise facility in La Spezia/Portovenere and depart to the amazing Carrara marble quarries.
This is the place where throughout 2000 years it has been excavated this white and shiny stone which has been used for building and decorating churches, palaces and cities in Italy and around the world. Donatello, Michelangelo, Bernini and many other sculptors and architects loved and still love to use this unique material for their works of art.
Travel through the majestic marble valleys, stop at panoramic lookouts and then arrive up to 1000 meters altitude, up there enjoy the breathtaking views of Carrara marble mountains and have the opportunity to look at the quarries from close by.
On the way see what's going on in an active marble quarry (outside) then move into an underground marble mine. Simply unique! During the trip, learn more about the tools, machines, and methods used throughout 2000 years for the excavation and transportation of marble.
Stop for lunch in Colonnata, the oldest quarry-men's village popular for its local delicacy "Lardo" of Colonnata (cured pig's back-fat).
In the afternoon, on the way to La Spezia, enjoy a stroll along the walkway by the sea in Lerici, a charming coastal town overlooked by its castle. A good gelato will complete the day.
*** Drivers are fully authorized in accordance with the Italian law.

Price € 215,00 per person based on 4 participants—If your party is bigger or smaller, Email us for a quote.
Inclusions
Private tour
Minimum #1 maximum #7 participants. 
Transportation: minivan with English-speaking driver-guide.
Explanation of both ancient and modern methods of excavation and transportation of marble.
Entrance ticket to the underground quarry.
Snack lunch in Colonnata: typical cold cuts, cheeses, pickles, vegetable pies, dessert, water, wine.
Exclusions
Tips
Other extras not listed above
Tour details
Duration: 8  hours
Activity Level: light
Suitable also for people with reduced mobility.
Advised clothing: comfortable shoes and clothes, sunglasses, hat/cap, sunscreen.